From Instamatic to Instagram
I'm a fine art and stock photographer living in Hertfordshire, close to the Cambridgshire border in eastern England. I am working my way through my back catalog with a view to sell my work and re-engage with printmaking.
Photography started for me when my parents bought me a Kodak Instamatic camera at the age of twelve for my birthday. I used to pour over product catalogs from photographic suppliers, dreaming of unobtainable cameras and not really knowing what it all meant. The simple Instamatic was a great camera for me at that time. Simple, easy to use with drop in film cartridges. I took pictures of anything that moved or stood still.
I seem to remember always having a camera around me from then on. Usually this was something secondhand I was able to afford, or more accurately what I could nag my parents to buy.  I was on that journey where every shot was going to be "the one" - and it never was. It wasn't until my late teens that I started to get it (whatever "it" is - I'm still working that one out).
Being able to develop and print my own B&W film in a makeshift darkroom under the stairs in my parents house was a big help in the shoot - learn - shoot some more, process. I started to make pictures that had something to say  - if only to me - rather than snaps. 
I didn't study art at school in any serious way, but I have this duality between art and science. I concentrated on science and tried to follow my intuition artistically in my own time. My first job was in the education sector, working in the media department as a do it all technician - photography, graphics and sound. Producing tape/slide AV programmes. 
I ended up moving into audio more than visuals and eventually became a freelance film sound recordist in the film and television industry. Later, I did work in video production both as cameraman and editor within the community and corporate sectors.
Next part of my photographic life occurred after university when I  worked for the Brecon Beacons National Park. This was a stunningly creative place to live and I was shooting film again in this beautiful landscape. I met some fabulous local artists working in print, painting, ceramics and photography and life took on a bit of a bohemian vibe. I had some success selling prints and licensing my work out to photo agencies.  
Life events took my energy away from photography, but a friend (thanks Anna!) inspired me to buy a smartphone and it's then that I took to Instagram as form of digital polaroid to get me back into seeing again using a visual notebook.
This brings the story, not to an end, but in a circle. As my own daughter turned twelve. I bought her a smartphone for her birthday. She is also keen on taking photos and seems to be genuinely intrigued and caught up in the fun and creativity and provides me with much laughter, wisdom and inspiration.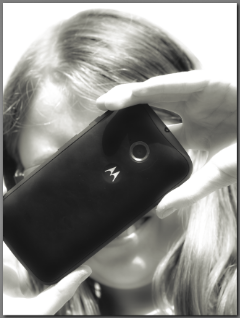 I hope you find something in my work that touches you emotionally - maybe love, hate or indifference - but in whatever way I want to thank you for taking the time to view and perhaps reflect on what you see.
"

Photography is a way of feeling, of touching, of loving. What you have caught on film is captured forever... it remembers little things, long after you have forgotten everything.

" — Aaron Siskind